Tryon Technology Park
The Tryon Technology Park (TTP) is a 200-acre tract of land in the Town of Perth containing shovel-ready sites for new and expanding companies. Situated in a wooded campus setting, the TTP is a perfect location for a business desiring a quiet setting. Sites ranging in size for 17-70 acres are available. A key component of Tryon is that all lot lines are floating so any site can be configured to meet the space needs of a specific business. Sites are competitively priced.
Fulton County understands the importance of time in the development of projects. That is why the TTP features an expedited local approval process. The two (2) local approvals needed for projects can be obtained within 30-60 days. This accelerated approval process helps projects get in the ground quickly.
The TTP is easily accessible from Exits 27 and 28 of the New York State Thruway (I-90). The Park is serviced by municipal water, municipal sewer and gas and electric services supplied by National Grid. All sites are owned by the Fulton County Industrial Development Agency (IDA). The IDA can incentivize projects by offering property tax, sales tax and mortgage recording tax exemptions. New York State also provides numerous business incentives.
In addition to the 200+/- acres of shovel-ready land, there are two (2) existing buildings available in the TTP:
1. Building 1 contains 75,000+/- sq. ft. and sits on a 12+/- acre parcel.
2. Building 2 contains 15,000+/- sq. ft. on a 3.4-acre parcel.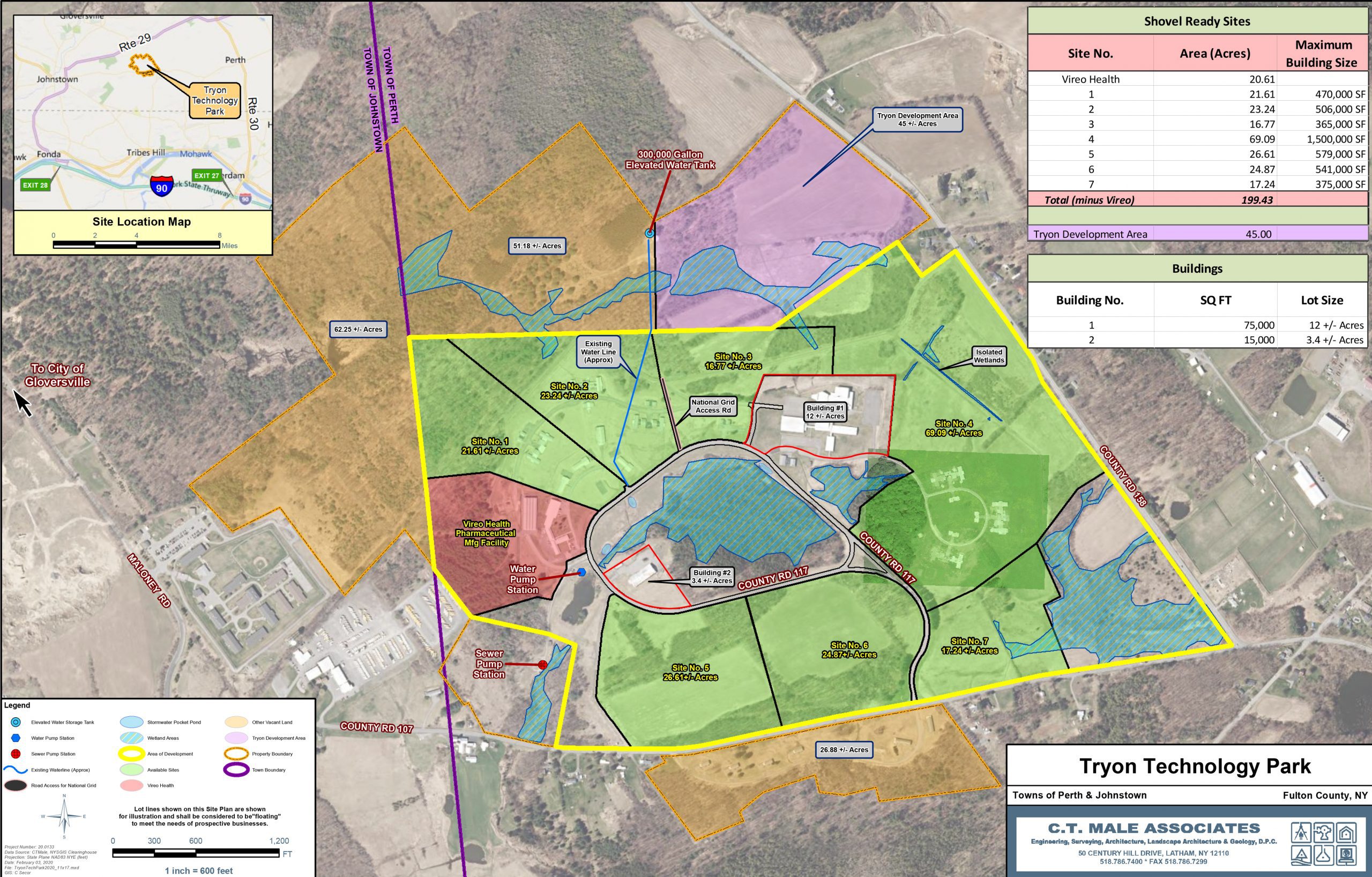 Viro Health
ID: 1
CURRENT OWNER: VIREO HEALTH OF NY, LLC
CURRENT OCCUPANT: VIREO HEALTH OF NY, LLC
SBL: 164.5-5
SQ FT of BUILDING: 30,000
ACRES: 20.58
YEAR COMPLETED: 1998
Site #1
Area (Acres):21.61
Maximum Building Size: 470,000 SF
Site #2
Area (Acres): 23.24
Maximum Building Size: 506,000 SF
Site #3
Area (Acres): 16.77
Maximum Building Size: 365,000 SF
Building #1
SQ FT: 75,000 SF
Lot Size: 12 +/- Acres
Building #2
SQ FT: 15,000
Lot Size: 3.4 +/- Acres
Site #4
Area (Acres): 69.09
Maximum Building Size: 1,500,000 SF
Site #5
Area (Acres): 17.24
Maximum Building Size: 375,000 SF
Site #6
Area (Acres): 24.87
Maximum Building Size: 541,000 SF
Site #5
Area (Acres): 26.61
Maximum Building Size: 541,000 SF
Tryon Development Area
The Tryon Development Area is a 100+/- acre tract of land owned by the Fulton County Industrial Development Agency. This prime tract of land is immediately available for sale and development. This picturesque site with beautiful vistas is an attractive location for various types of housing.
213 acres of Shovel Ready Land

Located in a wooded campus-like setting

Owned by the Fulton County Industrial Development Agency (IDA)
Property Tax Exemptions

Sales Tax Exemptions

Mortgage Recording Tax Exemptions

Relocation and Expansion Benefits

Job creation and investment incentives

Grants, Loans and Tax Credits
DCG Corplan, a national leader in market studies, completed a Targeted Industry Analysis for Tryon Technology Park identifying 7 Industry Clusters that would be a great fit:
Businesses burdened with high stress and high costs can take a 180° degree turn away from those worries. Tryon Technology Park's community offers a relaxed, low-cost environment that leads to improved productivity and profitability….
The Tryon Labor Market Area contains an educated, skilled & trained labor force for businesses to draw from…
There are 15 colleges and universities and  community colleges within a one hour drive from the Tryon Technology Park.
Location…Location…Location…
New York's Technology Triangle is formed by 3 large transformational technology initiatives … and Tryon Technology Park is strategically located to reap the benefits.
A Strong, Vibrant Community…
In Fulton County local connections still run strong. Friends see each other in local stores and ask "How is the family?" People hold doors open for each other and "Please," "Thank You," and "You're Welcome" are expectations. It's a safe, close-knit community with strong values.
It's just the beginning, says James Mraz, an area native who's been Fulton County's planning director for 30 years. The facility that was once the jewel of the state juvenile detention system was closed in 2011 as part of a system makeover by the State of New York. Its creative, adaptive reuse is a project Mraz calls the jewel of his career, and is taking place in a county whose entire population is only about 50,000 people.