213 acres of Shovel Ready Land

Located in a wooded campus-like setting

Owned by the Fulton County Industrial Development Agency (IDA)
Property Tax Exemptions

Sales Tax Exemptions

Mortgage Recording Tax Exemptions

Relocation and Expansion Benefits

Job creation and investment incentives

Grants, Loans and Tax Credits
DCG Corplan, a national leader in market studies, completed a Targeted Industry Analysis for Tryon Technology Park identifying 7 Industry Clusters that would be a great fit:
Businesses burdened with high stress and high costs can take a 180° degree turn away from those worries. Tryon Technology Park's community offers a relaxed, low-cost environment that leads to improved productivity and profitability….
The Tryon Labor Market Area contains an educated, skilled & trained labor force for businesses to draw from…
There are 15 colleges and universities and  community colleges within a one hour drive from the Tryon Technology Park.
Location…Location…Location…
New York's Technology Triangle is formed by 3 large transformational technology initiatives … and Tryon Technology Park is strategically located to reap the benefits.
A Strong, Vibrant Community…
In Fulton County local connections still run strong. Friends see each other in local stores and ask "How is the family?" People hold doors open for each other and "Please," "Thank You," and "You're Welcome" are expectations. It's a safe, close-knit community with strong values.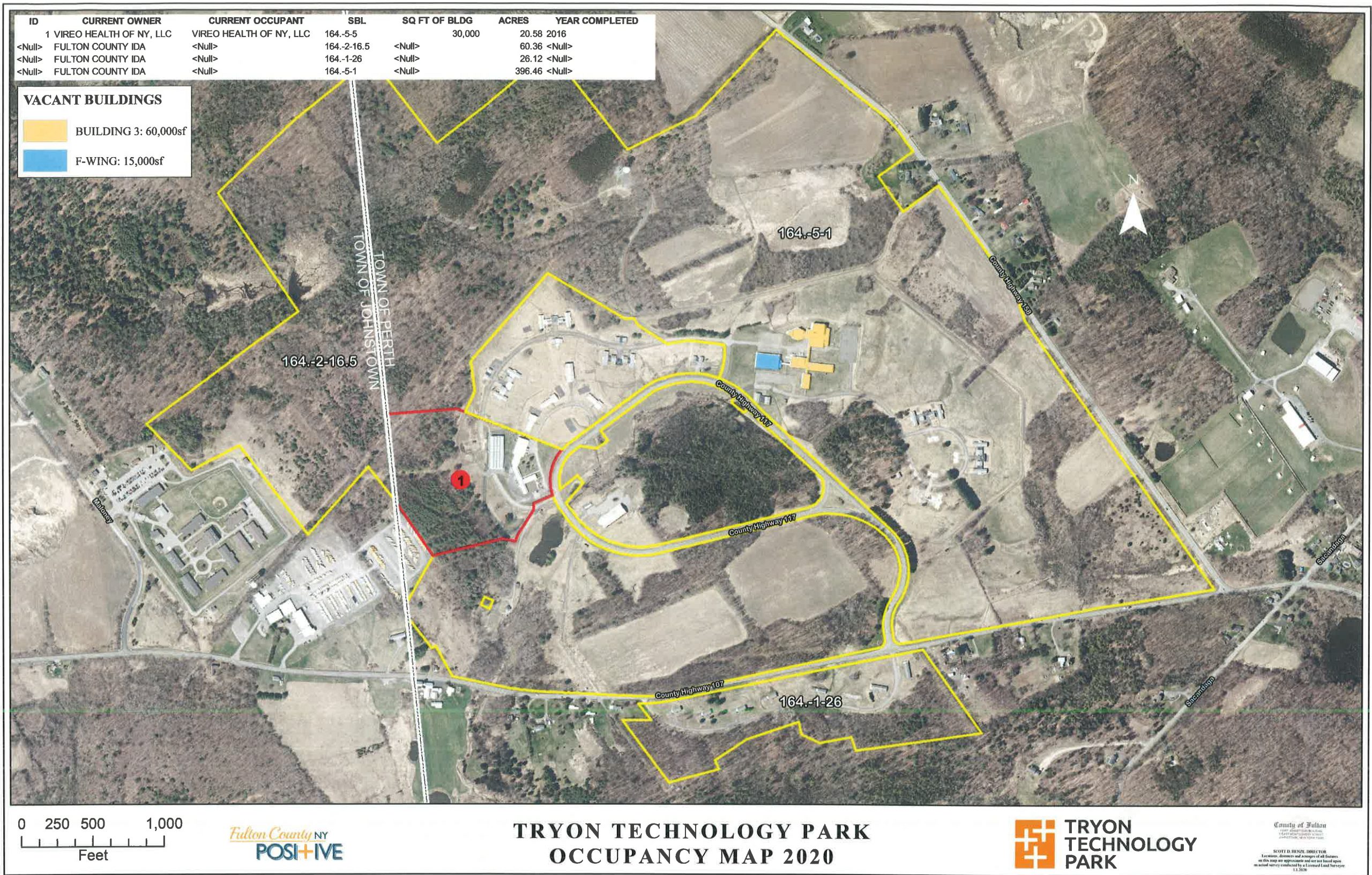 Viro Health
ID: 1
CURRENT OWNER: VIREO HEALTH OF NY, LLC
CURRENT OCCUPANT: VIREO HEALTH OF NY, LLC
SBL: 164.5-5
SQ FT of BUILDING: 30,000
ACRES: 20.58
YEAR COMPLETED: 1998
It's just the beginning, says James Mraz, an area native who's been Fulton County's planning director for 30 years. The facility that was once the jewel of the state juvenile detention system was closed in 2011 as part of a system makeover by the State of New York. Its creative, adaptive reuse is a project Mraz calls the jewel of his career, and is taking place in a county whose entire population is only about 50,000 people.