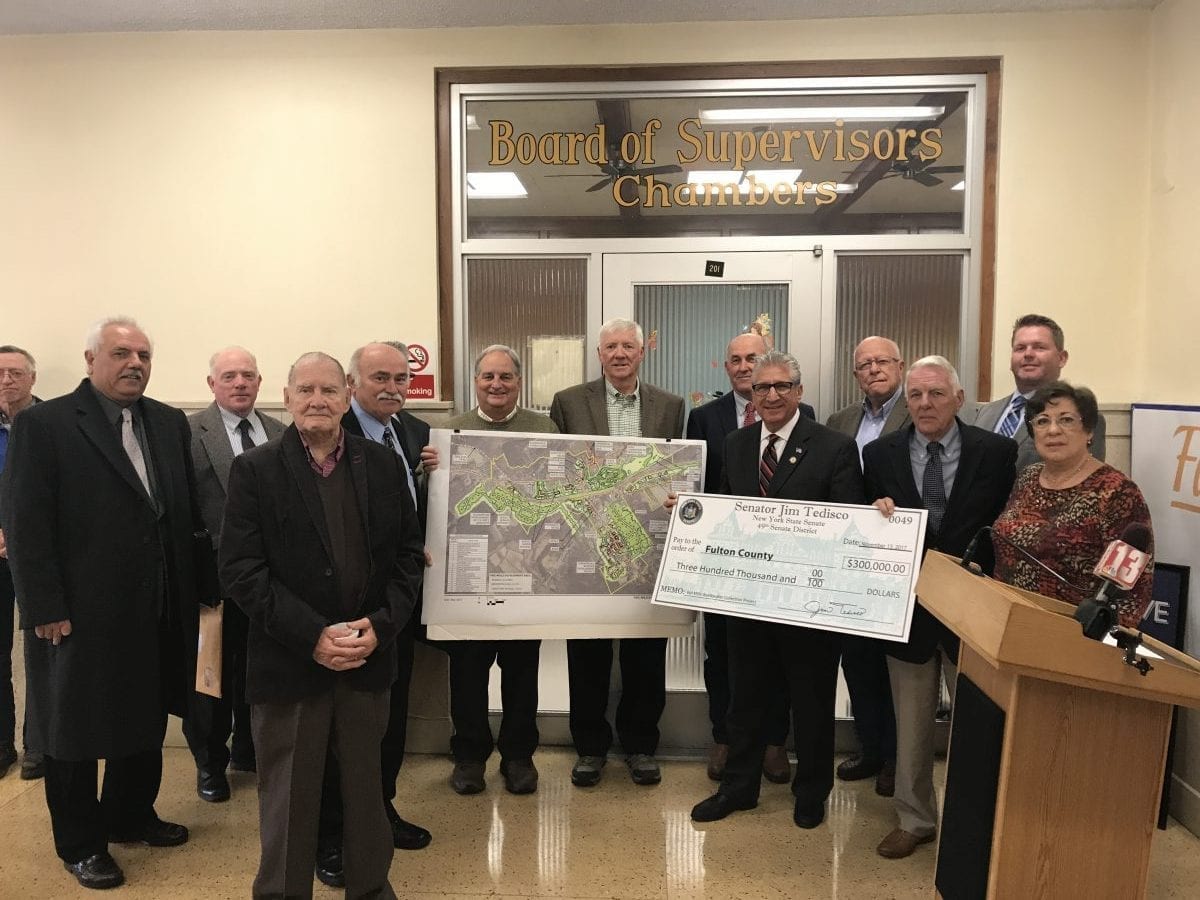 For Immediate Release: November 13, 2017
Contact: Adam D. Kramer, 518-441-5183
Tedisco Announces New $300,000 Grant for Fulton County Economic Development Project
Senator secures new state infrastructure funding for Vail Mills Development Area to bring residential, retail & commercial development to "gateway to Great Sacandaga Lake & Adirondacks"
Senator Jim Tedisco (R,C,I,REF-Glenville) today announced new infrastructure funding he has secured for the Vail Mills Development Area to bring residential, retail and commercial development to Fulton County.
Located around the intersection of NYS Routes 29 and 30 in the Town of Mayfield at the gateway to the Great Sacandaga Lake and Adirondack State Park, the Vail Mills Development Area will offer 50,000 square feet of retail space, 132,000 square feet of commercial office space, single family homes and apartments as well as a potential 72-room hotel along with greenspace and parkland.
Tedisco has secured a state infrastructure grant to support the proposed Vail Mills Development Area by bringing in municipal sewer service which is not currently available on site. Specifically, the grant will construct 5,000 LF of sewer trunk main from the Village of Broadalbin's existing wastewater treatment plant to connect to the NYS Route 29/30 intersection along with the construction of a wastewater pump station. The construction of this underground infrastructure is critical to bringing commercial development and investment into this area.
"As they said in 'Field of Dreams', 'if you build it, they will come!' That's the simple but powerful reason why this new $300,000 state grant that I helped secure is so important to the future economic development of Fulton County. To move forward on the Vail Mills Development Area and bring more jobs, tourism and economic development to Fulton County, we need to invest in the critical underground infrastructure to build the county's future success upon," said Senator Jim Tedisco.
"When we launched our Jump Start Fulton County strategy a couple of years ago, it included the SMART Waters initiative to develop regional water and wastewater treatment capabilities. Build-out of the Vail Mills Sewer District is at the center of our economic growth goals and this grant from Senator Tedisco is a big boost to get the project underway," said Fulton County Board of Supervisors Chairman G. Michael Kinowski.